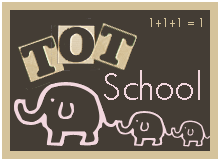 I wanted to show you another fun easy tot activity I made. I saw this on someones blog, but I can't find it to give them credit! (If you're reading this and it's you, I'm so sorry! Please comment to tell me!)
It's another color match, but it also works on fine motor skills.
She has to put the colored pipe cleaners into the matching holes in an oatmeal container.
I poked holes in the container top with an exacto knife.
Then I colored re-enforcement circles with markers and put them around the holes.
Making it was super easy and she loves it. She did this three times in a row.